Una de las formas de viajar a China que ha ganado popularidad en los últimos años es la de Viajar a China Sin Visado, es decir, que no es necesario hacer todo el proceso de una visa de turismo tradicional para poder salir del aeropuerto de China y poder visitar este país. Sino que se aplica a la visa de algunas horas, pudiendo ser de 24, 72, o la más larga siendo la de 144 horas.
Una vez teniendo esta visa aprobada podrás escoger de nuestros paquetes de viajes a China sin visa. Las rutas preferidas para este tipo de viajeros son las que incluyen 1, 2 o 3 días dentro de la ciudad a la que llegaron, que generalmente es una de estas tres: Beijing, Shanghái o Guangzhou. Y si eres de los afortunados, con visa de 144 horas, también contamos con paquetes realmente asombrosos de 6 días.
Por ejemplo, el Visado 144 Horas Shanghái te dará la oportunidad de visitar las atracciones más importantes de Shanghái, como la vista del Jardín Yuyuan, el Bund, los hermosos rascacielos que son la característica de la modernidad de la ciudad, y disfrutar de algunas actividades como: pasear por la Calle de Nanjing, entrar a cualquiera de las exhibiciones de los museos y por supuesto, disfrutar de la gastronomía del lugar.
Igualmente, y si tu visa te lo permite, puedes trasladarte a otra ciudad. Con esto en mente, hemos creado varios paquetes con diferentes duraciones a otras ciudades famosas que aceptan este tipo de visa y que son ciudades que no te pueden faltar en tu visita a China. Estamos hablando de ciudades como Suzhou, Hangzhou, Kunming, Chengdu y Xi'an.
Y si tienes algún otro plan, no dudes en preguntarnos específicamente por ese lugar que quisieras visitar y con la ayuda de nuestros representantes será mucho más fácil hacer ese sueño realidad. Recuerda primeramente revisar muy bien los requisitos para este tipo de visas y luego empezar a planear tus días o día en China.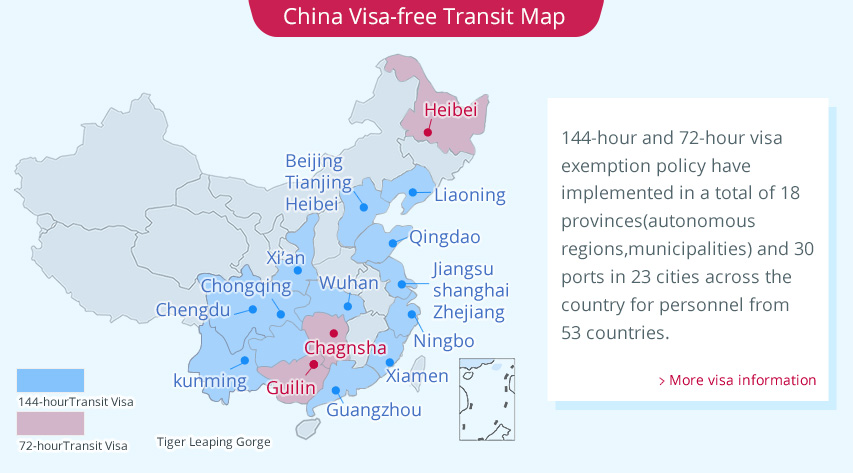 In addition, the 144-hour transit visa exemption policy has been implemented in the Beijing-Tianjin-Hebei, Yangtze River Delta and other regions to achieve regional and port linkages.
Beside this, 30-days visa free policy has been implemented in Hainan and Hong kong is visa free for about 170 countries.
Are you from the 53 countries blow? Can't wait to get started? Join us and discovery the best China!
| | |
| --- | --- |
| 39 European countries: | Austria, Belgium, Czech Republic, Denmark, Estonia, Finland, France, Germany, Greece, Hungary, Iceland, Italy, Latvia, Lithuania, Luxembourg, Malta, Netherlands, Poland, Portugal, Slovakia,Slovenia, Spain, Sweden, Switzerland, Russia, Britain, Ireland,Cyprus, Bulgaria, Romania, Ukraine, Serbia, Croatia, Bosnia andHerzegovina, Montenegro, Macedonia, Albania, Monaco, Belarus. |
| 6 American countries: | United States, Canada, Brazil, Mexico, Argentina, Chile. |
| 2 Oceanian countries: | Australia, New Zealand |
| 6 Asian countries: | South Korea, Japan, Singapore, Brunei, United Arab Emirates, Qatar |